Yukon 1000 Team Fortune Favours the Brave Update
It has been two weeks since we returned back from the Yukon 1000 and I am currently sitting at my desk in Kuwait still trying to internalise the experience that Nick (an Army veteran friend) and I have just been through.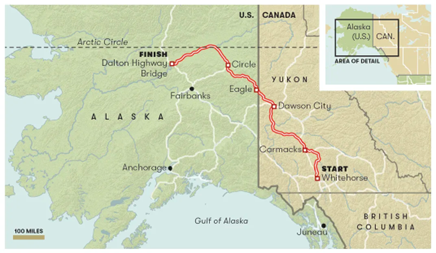 We cannot quite remember who messaged who in 2019 to say "fancy doing the Yukon 1000?", but our interest was piqued so Nick and I did some research and we thought the Yukon 1000 sounded like a great idea. At the time, we clearly did not understand the full scale of what we were planning to undertake. How difficult could paddling a canoe 1000 miles unsupported down the River Yukon from Canada (Whitehorse, Yukon Territory) into Alaska be? Taking that approach and our regimental background, we thought that Team Fortune Favours the Brave was an apt name. As a member of the board of the charity Young People's Independent Counselling (YPI) and with Nick as the co-founder of Reduce our Carbon Foundation, we immediately knew that we wanted to utilise this challenge to raise money and awareness for our respective charities, as well embarking on an incredible adventure into the wildness of North America, whilst also testing our friendship and mental resilience. Sadly our 2020 race was delayed due to the dreaded "c" and subsequently the first time we could both find time in our dairies to participate was this year.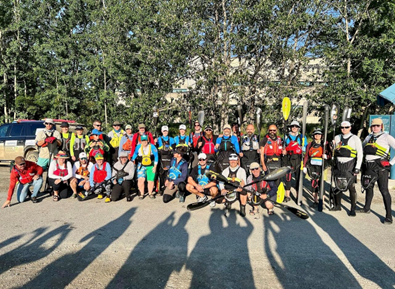 What is the Yukon 1000? "It is the world's longest paddle race where challengers must have the physical and mental fortitude to cope with the staggering feat of paddling 18 hours a day; just to complete the race. Completely self-sufficient, teams sleep rough where they stop, and in extreme cases must be able to survive in true wilderness. Whitewater, fallen trees, braided and poorly mapped channels are just some of the challenges entrants will face. One wrong turn forces competitors to backtrack up river in the most isolated grizzly and black bear territory in the world."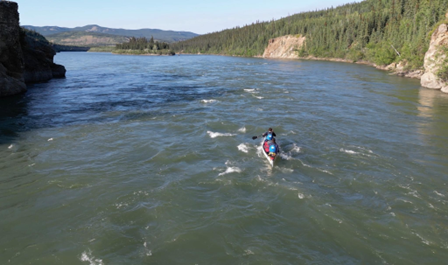 At the start of the race Glenn Nolan, a member of the Cree Nation in Ontario gifted us some pre-race knowledge, which held us is good stead guiding us through the darker moments in the early parts of the race. He also conducted a pre-race blessing to protect us on our journey where we were given a thimble's worth of tobacco, which I placed in the water and asked the river to guide me safely back to my family (Lillia, Tom, and Tiff) – a Cree tradition.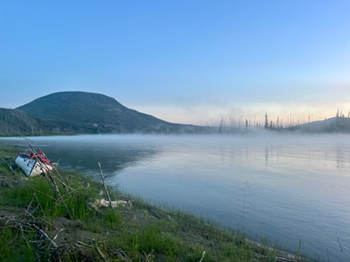 Jon the race director then read out the following: "This is the law of the Yukon, and ever she makes it plain: Send not your foolish and feeble; send me your strong and your sane."
As my wife Tiff can attest to, internally I was incredibly nervous (I certainly felt like the foolish and feeble) before we started the race. She could hear my voice cracking in my voice notes or when I called her, in many ways the dawning realisation that we were about to embark on the world's longest paddle race and in reality, the world's toughest survival and endurance race.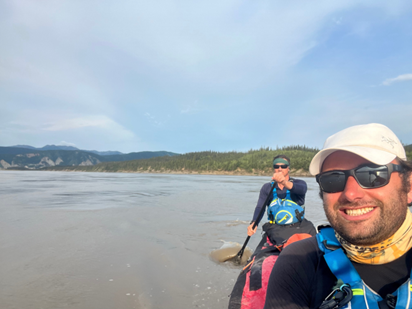 We had to take everything we need with us to survive for up to 10 days, with no opportunity for resupply and no mobile phone coverage, so a total digital detox and self-sufficient journey. Once we were past Dawson City (circa 450 miles into the 1000 miles), one of the most remote places on earth, we would be out of helicopter rescue range and rescue would take between 24-72 hours. I cannot describe the vastness of the wildness in in the Yukon Territory or Alaska, we were just insignificant on the mighty river Yukon, with little ability to "bend" the river to our will.
It is hard to visualise paddling 1000 miles, 18 hours a day for 8 to 10 days and this was definitely one of the hardest aspects of the race. On day two you are trying to comprehend what it would be like to paddle like this for another 6 days, a thought that is incomprehensible at that early stage! We had to break the race down into smaller manageable goals and in my case, use the motivation of age / pride, and knowing that I could not let my family, friends, or the young people that YPI supports down.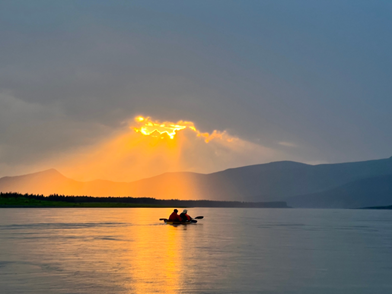 We experienced continuous day light, biblical rain, an electrical storm, coming within 10-20m of a black bear, traversed rapids, avoided both hypothermia and heat stroke. We faced continuous strong winds that remained on our "nose", a river that "boiled up" into a state where we had to take shelter by the shore due to the wind battling against the current, navigated the "flats" and learnt that the mapping was indeed as bad as we were told it would be, endured the soul destroying 10 mile meandering bends with no flow with blistered and swollen hands. We traversed "river lakes", survived off of limited and broken sleep while in physical pain, and for long period of time without sight of another human being. Other teams saw wolves, lynx, and one team was shot at by a young First Nations man in Alaska. We really were in the Final Frontier.
One thing is for sure we both had dark moments where we were questioning what we were doing on this mighty river and selfishly leaving our families to do something that is beyond the possible and fully testing our mental resilience. It does not matter what your previous experiences are, the size you are, how "manly" you think you are, it is "okay to not be okay". I am not embarrassed to say that we shed a few tears on the Yukon.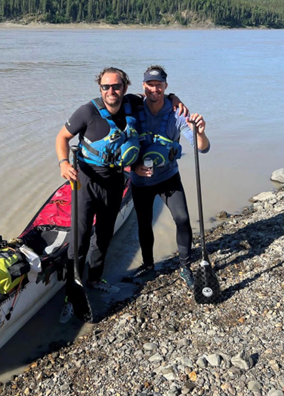 It is during times like these that we need to speak to others, as we do not have all the answers ourselves, that might be by talking to a friend or just leaving a message with someone you trust to get things off your chest.
We started as a novice team of 8 hours canoeing experience and took the philosophy of "complete and not to compete", very much in the Corinthian spirit, we did our best to learn from others and support our fellow teams on and off the water, taking pleasure in giving more than receiving. The Yukon 1000 race community was amazing and so generous in their advice and support, it was down to this that we shocked ourselves and finished as the second fastest British team in the 13 year history of the race. Which still is beyond our wildest imagination. Thank you to Jon the race director for having faith in us, selecting us from 3500 teams that entered, which was down selected to 30 teams deemed fit for the journey, which only 17 started and 15 finished.
Lots of friends have asked us what it was like and it is hard to put into words what Nick and I experienced, words like epic, brutal, stunning, amazing, horrible, surreal…..come to mind. Watching some of my Go Pro footage back, I keep using the word brutal, but with rose tinted glasses, I do feel like I have been on a journey.
Nick and I learnt that purpose is the centre of everything we do and a key motivating factor, so to raise funds for YPI to provide free counselling and mentoring to young people was a powerful motivating force for me. We would like to thank you all of those who donated and want to donate (you can here), as things currently stand, we will be able to provide 6-8 free counselling sessions for 300 young people, which we are incredibly grateful for. Through Nick's charity, Reduce our Carbon Foundation, we will be able to plant 7,500 trees to sequester carbon and provide livelihoods to families in South America. In total, we have currently raised over £60k, thank you.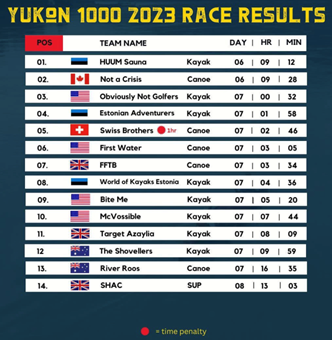 When Glenn said that the race down the Yukon would be a spiritual journey, we were dismissive, especially during the soul destroying moments, we would say loudly "you will not take our spirit", but as I look back at the experience I certainly have a feeling of self actualisation and internal calmness.
"No person ever steps in the same river twice, for it's not the same river and they are not the same person."
If you would like to listen to part of our story, here are two options: